Rolling Steel Service Doors
The Stormtite™ 625 Series is an insulated, heavy-duty rolling service door that is an ideal choice for applications requiring a moderate level of thermal protection. Designed in sizes up to 30′ wide and 28′ high (9144 mm and 8534 mm), these doors are constructed with a CFC-free, foamed-in-place polyurethane insulation. Vinyl weatherstripping on the bottom bar, exterior curtain side guide and hood baffle provides additional protection against air infiltration.
*If your project requires a higher R-value, ask your Overhead Door Ribbon Distributor about our Thermacore® door system, which offers R-values to 17.50 (3.09 W/Msq).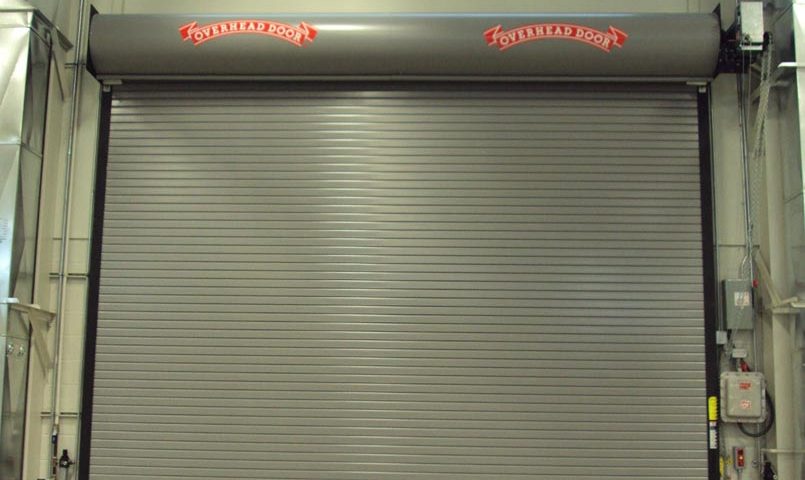 Warranty
24-month limited
3 year/20,000 cycle limited on door & operator system
Curtain
24 ga. galvanised steel front
24 ga. galvanised steel back
Slat profile
Flat, insulated, type F-265i
Insulation
Foamed-in-place, CFC-free polyurethane R-value 7.7* (1.35 W/Msq)*
Finish
Gray, tan, white or brown
Hood
24 ga. galvanised steel
Flame spread – 5
Smoke generation – 10
Sound Transmission Class rating – 21
Wind load
20 psf
Standard mounting
Face of wall
Operation
Chain hoist
Standard springs
20,000 cycle
Weather seals
Bottom, exterior curtain-side guide,interior hood baffle
Guides
Structural steel
Bottom bar
Primed steel with vinyl weather seal
Lock
Chain keeper
Standard Colours
NOTE: Colours may vary depending on your screen resolution.
Please reference actual colour samples prior to purchase.
 Operation: electric operator or crank operation
Slat finishes: aluminium or stainless steel
Bottom sensing edge and photo eyes
Mounting between-jambs
High-usage package of 50,000 and 100,000 cycle springs
Heavy duty bearings
Cycle counter
High-wind load option up to Miami-Dade
Weather seal for interior side guide and lintel seal
Galvanised steel bottom bar angle guides
Slide bolts and cylinder lock
Exhaust ports
PowderGuard™ Finish offers a full spectrum of up to 215 colours as well as colour-matching to specification