Rolling Steel - Service Doors
This Rolling 600 Series service door is an ideal choice where economy and functionality are important. The Model 600 door comes standard with bottom weather seal; wind load, chain hoist or motor operation and hood options are available to expand its uses in a variety of light commercial applications. It is perfect for a range of commercial projects.
When economy and ease of operation in a rolling steel door are key considerations, the choice is easy. The Coil-Away™ 600 Series provides both value and quality in a light-duty, highly attractive door. The CoilAway™ rolling door is fabricated of 24 or 26-gauge galvanised steel (depending on door width) for strength, with durability ensured by the door's steel guides and brackets. It's an ideal closure for any number of light commercial and industrial applications and is designed to fit openings up to 16' wide and 16' high (4877 mm by 4877 mm).
Functionality First. The Coil-Away™ 600 is built for functionality first. Crafted of quality galvanised steel interlocking slats, with all-steel brackets and guides and 20,000-cycle helical torsion springs, the door is designed to perform and last. Manual push-up operation is standard for doors up to 10' x 10' or 100 ft². (9.29 sq. m) with chain hoist standard for larger doors.
Electric operation is offered as an option, as are a wind load package, galvanised steel end locks to eliminate lateral slat movement, and a galvanised hood for enhanced versatility in a variety of environments and improved durability in all kinds of climates. Finished Good Looks That Last. The aesthetic appeal of the Coil-Away™ 600 Series isn't diminished at all by its high degree of functionality.
The 600 features our handsome CAW slat, with a slight radius of 2 5/8" (67 mm) slat pitch and a 9/16" (14 mm) crown pitch. For improved durability of the finish, the Coil-Away™ 600 is painted with a rust-inhibition, roll-coated finish that includes a baked on primer coat that is .2 mils thick, and a baked-on polyester top coat that is .6 mils thick — in your choice of three exterior/interior colours: white/white, white/ brown, brown/white.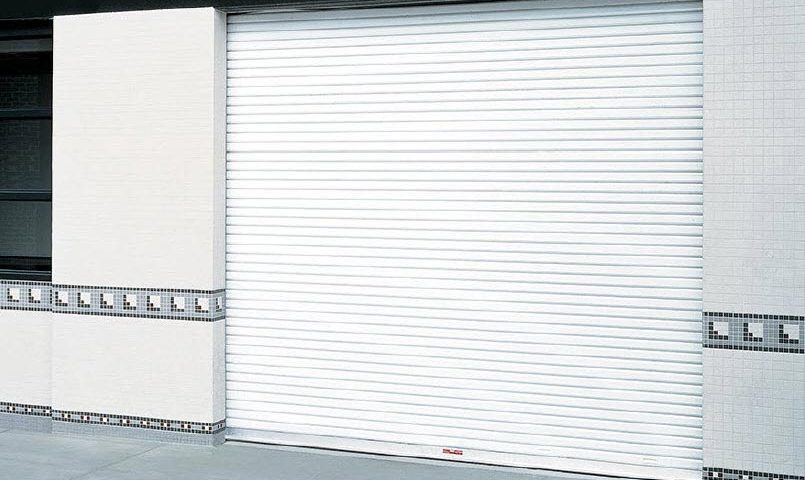 Max. standard width
16′ (877 mm)
Max. standard height
16′ (4877 mm)
Warranty
24-month limited
3 year/20,000 cycle limited on door & operator system
Curtain
24 ga. galvanised steel
up to 12'4″ (3759 mm) wide;
24 ga. galvanised steel
up to 14′ (4267 mm)width.
Slat profile
Flat crown profile type CAW
Finish (interior/exterior)
white/white
white/brown
brown/white
Standard mounting
Face of wall
Operation
Manual push-up up to
100 sq. ft. (9,290 sq.mm) or
10′ x 10′ (3048 mm x 3048 mm)
Chain hoist over 100 sq. ft. (9,290 sq.mm)
or 10′ x 10′ (3048 mm x 3048 mm)
Standard springs
20,000 cycle
Guides
Galvanised steel roll-formed guides
Bottom bar
Extruded aluminium with weather seal
Lock
Interior slide bolt
Standard Colours
| | |
| --- | --- |
| | |
| White | Brown |
NOTE: Colours may vary depending on your screen resolution.
Please reference actual colour samples prior to purchase.
Electric operator
Bottom sensing edge
Hood
Wind load package
Between Jambs
Powder Guard Finish offers a full spectrum of up to 215 colours as well as colour-matching to specification