Overhead Door offers a wide array of rolling steel doors to meet the most demanding fire safety standards.
Fire Tested Steel Door Options
We supply Maxidoor's suburb FB BD fire proof door Click Here
A 90 mm Fire Proof Door - Call us to find out more
Our Fire Doors will accommodate any unusual opening sizes and any discerning aesthetic requirements. Designed to close automatically in the event of a fire or alarmed event, our fire rated doors are available for service door and counter applications in commercial, industrial, institutional and retail projects.
All doors comply with NFPA 80, and are listed for both masonry and non-masonry applications. Our Fire Door Collection offers fire protection, innovative design, and optimised performance for the end user. The Fire Sentinel time delay release device provides an added measure of safety to control the doors closure.
Commercial Fire Rated Door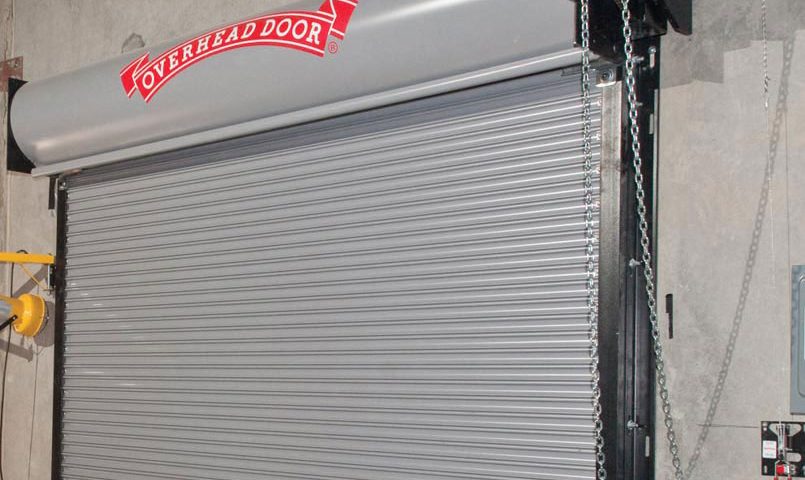 Wide range of sizes and styles meet or exceed industry fire safety testing standards including Underwriters Laboratories (UL & ULC), Factory Mutual (FM), including all fire safety requirements for the island of Ireland.
Doors are also compliant with all NFPA-80 standards.
Constructed of galvanised or stainless steel in a variety of gauges, slat designs, and finishes for unsurpassed strength, durability, and style
Door closes automatically under governor control after separation of fuse link. UL recommends a 165°F (74°C) fuse link for ambient conditions for 100°F (38°C) or less, or a 212°F (100°C) fuse link for ambient conditions over 100°F (38°C)
Door guide assembly rests on the sill or floor to provide an attractive finished appearance eliminating setup gaps. Guides expand upward during a fire
Our rolling service fire doors can accommodate openings up to 41'2" wide (12548 mm) or 25'4" (7722 mm) high (max. 683 sq ft or 634527 mm) with up to a 4-hour UL rating.
Counter fire doors fit openings to 14′ (4267 mm) wide and 10′ (3048 mm) high with either a 3-hour or 1 1/2-hour UL rating, and are optionally available with a 1 1/2-hour rated plastic laminated counter top
Integral frame and sill counter fire doors with a 1 1/2-hour UL rating afford a handsome finished look
Motor operated counter fire door does not require tension reset after automatic fire release
Operation: Options include push-up, chain hoist, crank and electric motor (fire doors: RHX® FK, RHX® or RSX®; fire counter doors: CDXTM)
UL-listed FireLite® vision lites in 4-, 3-, and 1 1/2-hour labels allow visual access without compromising safety.
Additional safety options include the Fire Sentinel® time-delay release device, photoelectric or ionisation-type smoke detectors (with or without heat detector), as well as solid-state horn, strobe or voice enunciation.
Wind load options are available for Florida Building Code (FBC), Miami-Dade, Texas Department of Insurance (TDI)
UL-listed brush-type smoke seals satisfy smoke retardation requirements.
Firestop® fire-resistant core counter tops covered with popular brands of decorative laminates allow coordination of project design elements for use with counter fire doors
PowderGuardTM Finish offers a full spectrum of up to 215 colours as well as colour-matching to specification
Fire-Rated Rolling Service Doors
Our Fire Doors are fire-rated rolling service doors which offer superior protection wherever a listed fire door is required. Common applications include: factories, warehouses, mills, distribution centres and parking garages. Customised fire doors are available for conveyor openings.
These doors feature an innovative floor reset system which allows these doors to be easily drop tested and mechanically reset at any time without requiring special tools. Additional protection features, such as Fire Sentinel® and FireLite® vision lites are available options.
Overhead doors have a number of options which would meet any project requirement. In order to provide you with the fastest convenience to select your door, we would like to invite you to call our headquarters located in Nenagh, Co. Tipperary today. 1850 23 6677 or email us at info@overheaddoor.ie
Fire-Rated Counter Doors
Overhead doors have a number of options which would meet any project requirement. In order to provide you with the fastest convenience to select your door, we would like to invite you to call our headquarters located in Nenagh, Co. Tipperary today. 1850 23 6677 or email us at info@overheaddoor.ie